| | | | |
| --- | --- | --- | --- |
| Image copyright Ian Martindale: http://www.ianmartindalephotography.co.uk/ | | | |









We are happy to announce our 2016-17 concert season! Join us for a year of music brimming with inspiration, excitement and history.
Yorkshire Bach Choir has a reputation for the quality and authenticity of its performances including the greatest pieces in the choral repertoire. Along with this familiar fare, this season will introduce less familiar music from figures as diverse as CPE Bach and Zoltan Kodály. For lovers of great choral or early music can there be a better way to spend a Saturday evening in York?


Renaissance Unchained: 29.10.16
Byrd (TL), Lassus (TR), Sweelinck (BR),
Victoria (BL), Palestrina (Ctr)

Our opening concert showcases the variety and depth of music across Europe during the Renaissance with music by Byrd, Sweelinck, Lassus, Palestrina and Victoria. Challenging the idea that Renaissance musical innovation was centred exclusively in Italy it includes music from Spain, the Low Countries and our own Isles.




We unlock the mysteries of William Byrd's intriguing

Mass for Five Voices

which was secretly performed in the private chapels of devout English Catholics during the turbulence of the late sixteenth century. Italy is not ignored in our tour of Europe as we perform Palestrina's plangeant, suspension-filled setting of the

Stabat Mater

for double choir. Other gems of Renaissance music included in the programme are the exquisite motet 'Justorum Animae' by Lassus and a festive 'Hodie' by Sweelinck.
We are thrilled that this opening concert will once again be a part of the artistic programme for the Illuminating York Festival. We are pleased that our singing will once again be part of the
magical atmosphere across the city on evenings of the festival.
This year's festival makes a particular focus of some of York's greatest religious spaces including York Minster and the adjacent St Michael le Belfrey which is the home of our concert series. Illuminations on the exterior of St Michael le Belfrey promise to be complemented by tranquil sonorities inside.
Bach at Christmas: 10.12.

16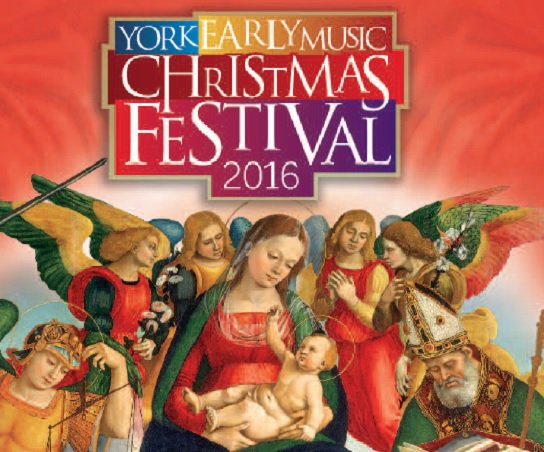 For our December concert we make the first of two visits this season to the Sir Jack Lyons Concert Hall (University of York) to perform Bach at Christmas
with Yorkshire Baroque Soloists
.
The concert includes an unmissable trio of festive works with JS Bach's
Magnificat
and cantata
Wachet Auf
(Sleepers, wake'). Particularly exciting will be the York premiere of CPE Bach's exciting setting of the
Magnificat
text.
Tickets are selling quickly for what promises to be a highlight of the York Early Christmas Music Festival.
Heinrich Schütz at the Dresden Court: 4.02.17
2017 will open with Heinrich Schütz at the Dresden Court when we explore the wonderful range of music written by one of the most important, innovative composers of the seventeenth century.
We showcase the range of his musical style from his expressive, trailblazing settings of the passion story to the sonorous vocal textures of his colourful psalms.



Bach: Mass in B minor: 18.03.17
Completed in the final year of his life, the monumental
Mass in B minor
is arguably Bach's greatest achievement. All in all, it is the perfect realisation of his endlessly flexible and inventive musical style.
20th Century Choral Classics: 13.05.17
Organist Ben Horden
We return to the Sir Jack Lyons Concert Hall (University of York) on 13 May for a colourful programme of music for organ and choir entitled 20th Century Choral Classics accompanied by organist Ben Horden.
In this concert we present three distinctive twentieth century settings of spiritual texts for voices and organ. Both Kodály and Duruflé take their cue from earlier musical styles, especially Gregorian chant, and reinvent familiar texts in the full technicolour of their own individual musical languages. Completing the trio of works is Walton's
The Twelve
a
hugely imaginative and distinctive setting of W H Auden's words.
Read more about Ben Horden at
http://www.benhorden.com/
Monteverdi: Vespers (1641) and Carissimi: Jephte: 17.06.17
YBC and Yorkshire Baroque Soloists at
York Early Music Festival December 2015
Known as 'the other vespers', Monteverdi's 1641 collection Selva morale e spirituale is a greatest hits compilation from his many years' experience as a church composer. The virtuosic settings combine a characteristic combination of weighty, expansive choral writing and exquisite vocal solos. Forming an ad hoc vespers sequence, the music performed reflects Monteverdi's revolutionary, colourful treatment of voices and instruments. Dramatic flair and vividly imagined biblical characters are the hallmarks of Carissimi's compact masterpiece Jephte.


Come to hear us!
Full details of ticket prices and season subscriptions can be found on our
website
. You can save money across the season by subscribing for one of our season tickets. For the first time this year £5 student tickets will be available in advance of the concert.
Further details on Yorkshire Bach Choir: bit.ly/YBChoir
Yorkshire Baroque Soloists: bit.ly/YBSoloists
All our concerts (except for the December and May concert at the Sir Jack Lyons Concert Hall) are performed in the spacious
St Michael le Belfrey
a historic church in the heart of the city.